To celebrate #GivingTuesday, GovWebworks is making an annual donation to Preble Street, the homeless shelter and resource center here in our hometown of Portland, Maine.
The donation helps to provide an annual 600,000 meals and 31,025 nights of supportive housing for hundreds of homeless youths and adults, human trafficking survivors, and veterans.
"My family has a history of donating to Preble Street," Portland Webworks/GovWebworks CEO Justin Davis says. "So it's a natural fit for our company's charitable giving. I also believe that giving directly to Preble Street, which is an expert at providing aid, is the best way to help."
Founded in 1975, Preble Street was the first agency in Maine to provide the homeless with free meals and resources such as clothing, phones, bathrooms, mail, as well as help finding housing, healthcare, mental health treatment, and employment. It has gone on to add a number of services, shelters, and advocacy programs to meet the growing need.
Rising costs funded by the community
As needs have increased over the years, so have the costs. Preble Street's current annual budget relies on $3 million in donations to stay solvent. It also relies on many community volunteers, including Tom Lovering, our Director of Business Development, who helps in the kitchen and at events such as Unstuff the Bus on behalf of the Portland Rugby Club.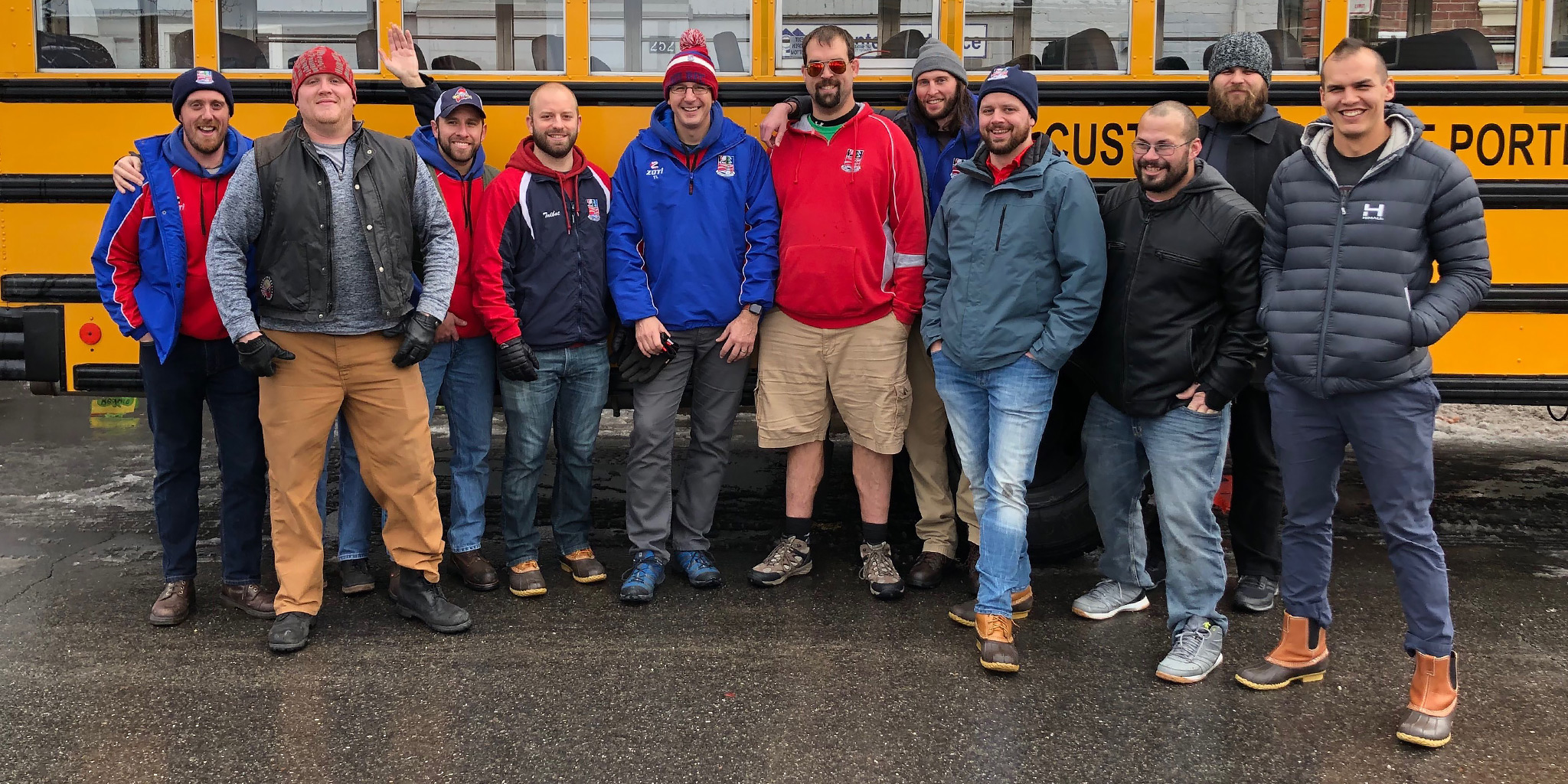 "Unstuff the Bus is a great community experience," says Lovering. On the Tuesday before Thanksgiving, he and his teammates formed a human chain to unload over a million pounds of food donations into the resource center.
"I've been doing this for 4-5 years now, and I see first hand how much Preble Street relies on donations from the community. It's everyone from individuals who bring a few cans, and people who buy the Hannaford Fight Hunger Boxes, to corporate food services. The school district donates the buses to save on transportation cost, and volunteers unload the goods."
Lovering also noted that there seemed to be less donations this year than usual. "It used to be two full buses, but this year we had only one and a third. It makes me worry, is it sustainable to rely so heavily on the local community and individuals? Why can't they get more state or federal funding?"
Furthermore, he noted, "Homelessness and opioid abuse are not just Portland's problem, they have their foundation in nationwide issues such as lack of Medicaid and other dwindling federal support systems. Instead we're relying heavily on people and businesses in the community to provide the support needed. I just wonder how long we can sustain it."
Opioids tax the resources
As with the rest of the nation, Preble Street felt the crunch when the opioids crisis exploded in the past few years, resulting in more than one overdose death a day, or 418 total, for Maine alone last year.
More often than not, when someone suffering from opioid dependency asks Preble Street staff for help, there is nowhere to send them. State support would go a long way to fill the gap, but that support has not been forthcoming.
This July, Preble Street was devastated when Maine's outgoing governor, Paul LePage, vetoed a bill that promised to help. Commonly called the H.O.U.S.E. bill, LD 1711 is "An Act to Save Lives by creating the Homeless Opioid Users Service Engagement Pilot Project."
"Combining Medication Assisted Treatment, low-barrier housing options, and intensive case management, it would have offered hope to those who have so little right now," wrote Preble Street executive director Mark Swann in the Curbside newsletter.
"Without a serious, sustained, compassionate, and responsible commitment from the State of Maine, our efforts will only make a small dent in the problem."
The recent decision by Preble Street to scale back hours in order to stay within budget constraints, as reported in the Portland Press Herald, only adds to the distress for homeless people struggling with substance addictions.
"At Preble Street we meet people where they are, and we don't leave them there," is the claim made by Ashish Shrestha, a staffer at the Resource Center. However, it's a claim that's becoming harder to stand behind without fiscal support from the state.
From local to nationwide issue
As reported by the New York Times on Nov 25th, opioid deaths have begun to dip for the first time in years, according to preliminary data from the Centers for Disease Control and Prevention. Ohio's Montgomery County, for example, saw 548 overdose deaths last year at the end of November fall to 250 this year, marking a 54 percent decline.
The article points out that Dayton Mayor Nan Whaley believes Medicaid expansion is behind the change, providing nearly 700,000 more low-income adults with access to free treatment.
Whether or not Medicaid is responsible for the positive change, it has provided federal support that otherwise must be raised by the community. It's worth looking at whether communities can continue to carry the burden without that support.
Nation of joiners
Here in Maine, there may be cause for optimism, with Governor-elect, Janet Mills, promising to expand Medicaid. She may also usher in a more favorable environment in which to resurrect the H.O.U.S.E. bill, which can ease the strain on organizations such as Preble Street.
At the same time, we can all look inwards and recall the observation of Alexis De Tocqueville: "In no country of the world has the principal of association been more successfully used or applied to a greater multitude of objectives than in America."
We have always been a "nation of joiners." This Giving Tuesday is a good reminder that we have a history of joining together to solve the social and economic challenges that ultimately impact us all.
Learn more