We've all heard the old saying about the cobbler's children having no shoes. By the same token, busy developers may not have time to redesign their company website. After Portland Webworks launched the GovWebworks sub brand in late 2016, the basic site soon outgrew its shoes. An update was applied last summer in 2018, but by the spring of 2019, a full overhaul was overdue.
"Our public-sector specialization has evolved," says Tom Lovering, Director of Client Engagement. "The areas where we have particular depth and expertise have come into focus, so a redevelopment of our website became an imperative."
Refined focus
Not only has GovWebworks grown in size, scope, and client base, but it has better defined its focus in the health and human services arena. Specializing primarily in digital tools for benefits and assistance, children and family support, and workforce development, we serve agencies in 10 key states. This refined focus gave the Business Development and Creative teams a clearer vision for how the new site would look and function.
"The old site was a little generic," says Peter Clark from the Creative team. "It didn't have much personality. Fast forward two years, the GovWebworks brand has created more of an identity for itself. This inspired us to introduce personality into the typefaces and colors and play up the government blue concept. The new color palette and custom imagery gives the site a unique look that sets us apart from other government vendors."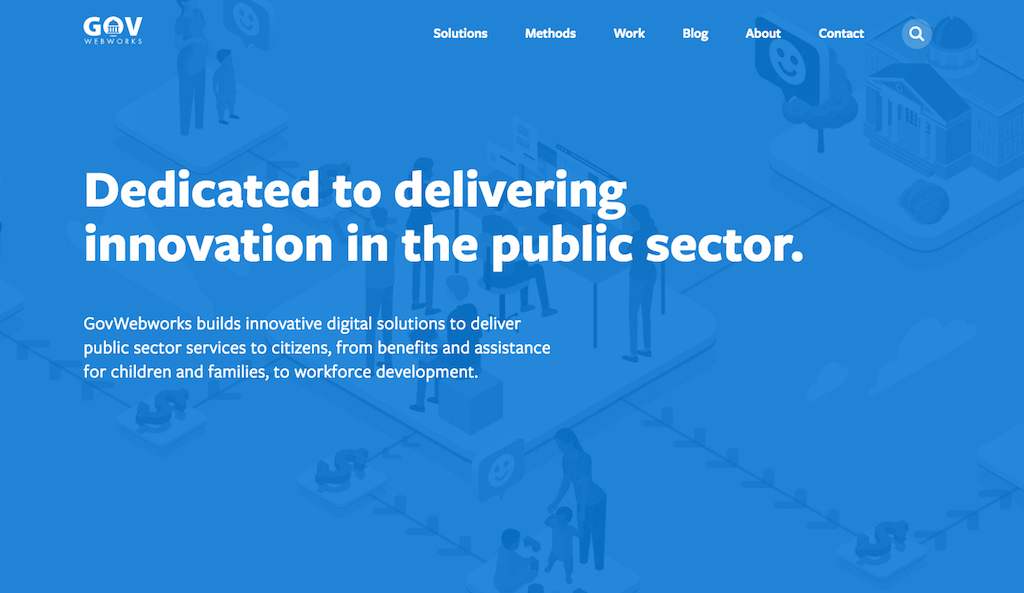 While a ground-up rebuild is daunting, it's always a good opportunity to re-think how to best present the company's message. "The redesign has helped us to share the depth of our organization in much greater detail than we have before," says Lovering. "This site is now a better representation of who we are."
Following standard best practices, the new site is mobile, accessible, and user friendly, as well as optimized for SEO. Now that GovWebworks has new shoes, we plan to tackle the Portland Webworks site with a similar approach, coming soon.
Learn more