Welcome to the June 2022 AI Newsletter from the GovWebworks AI Lab. The following articles touch on important topics in the industry, including:
We hope you find this information useful. If so, please share with your colleagues and encourage them to sign up for the AI Newsletter and join the conversation. Or email us at ai@govwebworks.com to talk about using AI to optimize your organization's digital goals.
---
#1: The catch with AI demos and examples
Key takeaway: Demos and examples make it look like an AI solution "just works" out of the box, but often you will need additional time, resources, and budget for refinement and customization to get effective results.
Using AI tools is becoming easier, opening up more opportunities to quickly integrate a wide array of ML capabilities into existing products, solutions, and workflows. For example, a spate of image generation tools has gained a lot of press recently, including DALL-E 2 and Google's Imagen. Image generation may not be high on the priority list for many government agencies, but the issues discussed in this article are relevant to a broader set of AI tools.
For example, I was recently demoing some AI tools that can quickly be integrated into apps and content management systems to provide text summarization and content classification. The applications for such a tool are pretty diverse, including automatically summarizing uploaded Word and PDF documents, summarizing long pages of content, and automatically classifying content into relevant categories for recommendations and personalization.
The examples provided by the summarization tools show good results using the demo input data they provide and it only took about 10 minutes to hook into the API and start generating summarization results. However, in real world practice, using actual client content, the results were often less useful out of the box.
That doesn't mean we should discard the solution, or that the results can't be improved, but when planning on integrating AI/ML capabilities such as summarization or classification it is important to budget time for the following:
Incorporating additional training data
Refining the ML models being used
Iterating and testing to ensure that the results meet a desired threshold
Assessing the results for bias
The dark secret behind those cute AI-generated animal images  
---
#2: No code / low code AI solutions can help with digital transformation to a data first organization
Key takeaway: Frontend interfaces for working with AI/ML tools are opening up these capabilities to broader, less technical audiences.
Amazon SageMaker is one of the go-to platforms for working with ML models and building Machine Learning pipelines (though there are plenty of other popular ones such as Vertex AI from Google). When it first rolled out, you needed a fair amount of AWS experience and a strong understanding of ML concepts to leverage it for projects.
However, services like Sagemaker and Vertex have continued to build more user friendly interfaces on top of their capabilities, opening up the ability to quickly prototype and implement solutions without any coding necessary. These kind of tools can simplify the task of integrating data sources, transforming data, building ML models, and making predictions.

For example, maybe you might want to predict the success/failure of projects from a budgetary or timeline standpoint? An example can be found in the article:
Build a risk management machine learning workflow on Amazon SageMaker with no code
---
#3: Learn about key Machine Learning topics with visualizations from Amazon
Key takeaway: Gain a stronger understanding of complex Machine Learning topics through visualizations.
Topics such as best practices for splitting up your training data for ML, and algorithms such as Random Forests and Decision Trees can be difficult to understand for the non-developer. Machine Learning University is an initiative from Amazon to present machine learning topics and an easy-to-understand visual approach.
Courses cover topics such as:
Natural Language Processing
Tabular Data
Computer Vision
Decision Trees and Ensemble Methods
Machine Learning University: Self-service machine learning training from Amazon's own scientists  
---
#4: Explanations of AI/ML solutions being applied in organizations
Key takeaway: AI is being leveraged across industries and services including decision support, marketing, customer support, and recommendations.
The article Artificial Intelligence and Machine Learning–Explained, takes a thorough look at the various aspects of AI and ML as well as providing high level, non-technical explanations of the various categories of AI.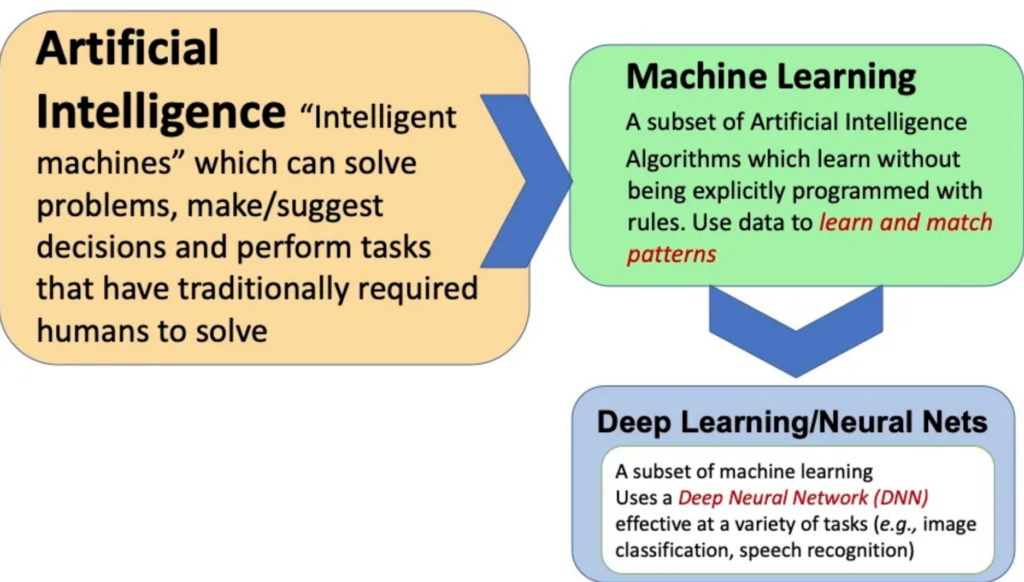 Why pay attention? As noted in the article, "the number of patents filed in 2021 is more than 30 times higher than in 2015, as companies and countries across the world have realized that AI and Machine Learning will be a major disruptor and potentially change the balance of military power."
If you want to broaden your knowledge of what AI can do and how it is being used, this is a great place to start.
Artificial Intelligence and Machine Learning–Explained  
---
Learn more
Sign up for the AI Newsletter for a roundup of the latest AI-related articles and news delivered to your inbox
Find out more about using AI to optimize your organization's digital goals