What is information architecture (IA)? Why is IA an important part of any design process? And what value does an information architect bring to a team? These are questions we hear from clients who are unfamiliar with the use of IA on software development projects. We thought we'd turn to a well-known expert to provide some insight into the benefits of architecting user centered information in work and life.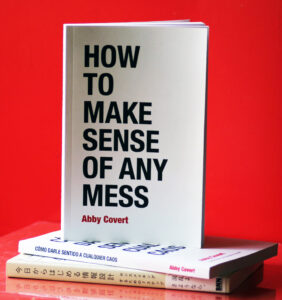 Leading IA consultant and teacher, Abby Covert, is on a mission to demystify the practice of information architecture. Her credentials include teaching IA at SVA's Products of Design program, the Design Operations Summit, and the Advancing Research Conference. She also founded World IA Day, an annual event that brings IA education to local communities.
Covert came to her career with a deep connection to making sense of information from her maternal grandfather, who worked as a process and efficiency expert for the US Navy, Pentagon, and Wall Street. "He made diagrams, wrote procedural manuals and gave presentations about the importance of things like clear labels, consistency, prioritization, and process efficiency," she explains. "He spent his lifetime pushing up against systems and asking why, and I attribute much of my IAness to his influence on me."
Covert carried on these IA genes to create a card catalog system for the family library around age nine, and at 21 she landed her first job in IA. By 31, she had run some successful national IA conferences, became president of the IA Institute, and started her own IA consulting company, and at 32 she published her first book on the topic, How to Make Sense of Any Mess. She is currently at work on her next book about diagramming.
Here's what she has to say about the importance of IA for agencies looking to organize information for the people who need it.
Information architecture always exists. It's not something you get to choose to use or not, because everything has a structure and language that people use to make sense of something. However, the weaknesses at the structural and language level can get in the way of the message you intend to convey and no amount of redesigns or re-platforms can fix what's wrong.
If you don't pay attention to the quality of those structures and your use of language, there's a higher likelihood people won't make sense of your message. So it's a risk to not place value on thinking about your IA up front.
What advice do you have for agencies dealing with many layers of siloed and legacy information?
My first piece of advice is to take the information out of the silos, even if just long enough to look at it. Send representative team members who are fluent in the language and structure of each silo into a delegation together. If you guide them on how to compare and contrast the language and structure of the silos and the impact of those differences on the whole, you will quickly find out all the IA issues there are to find.
Often all you have to do to make a difference is empower the team with the tools, set the path, and always, always buy the pizza. And once those people see all that mess, they will go back to their silos to tell others about it. Once it is no longer an unseen thing, slowly but surely people will be inspired to change it, mess by mess, word by word, interface by interface.
My second piece of advice is don't make the mistake of expecting that shining the light alone is doing all the work. It will not happen overnight, or as the result of a single project or effort. We can use tools like controlled vocabularies and diagramming to bring language and structure decisions or realities to the surface so we can see it in the light. But it goes slow, and then when things finally change it just feels obvious, rather than balloons falling from the ceiling, which is what people often want. Doing the work is a decision we make everyday and on every project to make the best IA decisions as they arise.
How does user research help make decisions that might be contrary to stakeholder desires?
Back in the early days of mobile eTailers, the mobile web team for a luxury furniture brand had come up with a brief saying something was wrong with the mobile site and wanted us to fix it. They had this huge drop off of users leaving the site without checking out, as compared to the desktop site.
When we looked at the interface of the mobile shopping flow with users, there were no stand out usability issues and all the information users needed was readily available. We then turned to research techniques like qualitative interviews and journey mapping that helped us look at the problem through the eyes of the user. We discovered this supposed drop-off wasn't a problem from the user's perspective at all. Rather, very few people were comfortable making that large a purchase on a mobile phone at that point in time (which makes me giggle now!). Even more so, we found in the user research that people took multiple trips to the mobile site and the desktop site to make a single purchase and often they emailed links back and forth before ultimately making the decision to purchase.
This was a great example of stakeholders having a frame on the problem that was different from the actual customer problem to solve. Money spent to improve the mobile site probably would not have made a difference. Instead we recommended they change their metrics and team management structure to better understand insights and measure the success of their channels based on the fuller journey experienced by the customers.
My best advice to agencies jumping into any project with any modicum of creative history is to take the time to retrospectively assess the work that succeeded and failed in the past. The stories of the past work can tell you a lot about what will be easy and what will need a little extra work to get right.
What were the three most useful IA techniques addressed in your book, How to Make Sense of Any Mess, that helped you write the book?
Controlled Vocabularies
Establishing a controlled vocabulary for information, from the visually expressive to the technically exhaustive, is a true game-changer. The book itself is a controlled vocabulary for the practice of IA, which ironically boasts a messy language for discourse about itself. One of the goals of the book was to establish a language we all can use to talk about IA.
Worksheets
Another IA trick used in the book is to provide worksheets throughout to lead the reader through making sense of their own mess. In creating and testing these worksheets, I relearned how helpful worksheets are in giving thought-starters to people, even on the toughest of topics, like intentions, boundaries, and fear.
Diagrams
After getting lots of reader feedback asking for more visual examples of IA tools, I gathered and presented 10 common diagram types for use in IA thinking. Fondly called the Pizza Diagrams, they help people to grasp how to bring IA thinking into their life and work through the skill of diagramming. I'm now in the process of writing a book about diagramming, to be published later this year.
Regarding beginner friendly language, how can agencies make their language easier to understand?
I highly recommend getting involved with the Plain Language community that has formed to share wisdom and specific guidelines on how to make content more accessible to more audiences for the Federal and local government. Also, I gave a talk at the Federal Plain Language summit that readers might enjoy, about some tools that can make the effort feel more manageable.
Is there something you learned about IA in the process of writing the book that you didn't already know?
Writing that book taught me again (and again and again), as does every project, the importance of user centricity and taking the reader into consideration first. There were a lot of times when I wanted to make something sound more flowery or cute or complex than it needed to be, but keeping my reader in mind (and hiring a really talented editor) helped me make informed creative decisions.
Writing this book taught me a life lesson: there is a thin line between art and design. The relationship with users is that line. In writing this book, I had to make sure it didn't turn into art even though it was my creative passion project.
The primary goal had to be to make the design and the information as useful as possible for the reader of the book. The same goes for the line between too much information and just the right amount of information. User centered information architecture helps us to cut what is not needed in order to make what is needed easier to understand and use.
Learn more