Jenn Page found a new mission when she was recruited by the Office of Innovation at the Maine Department of Education to develop online content for remote students during the pandemic. With her background as a high school teacher and director of education at Hurricane Island Center for Science and Leadership, she joined educators across the state to work on the new platform. "We were creating the plane as we flew," she says of what would become Learn With MOOSE, then called Maine Online Opportunities for Sustained Education, a free education platform to support pre-K to grade 12 educators with remote learning tools.
As the pandemic subsided, Jenn became the MOOSE project manager for a full-time team brought on to grow the success of the platform. Now called Maine Online Open-Source Education, the new site designed by GovWebworks was relaunched in July of 2023 with a selection of online learning modules that guide students to interact with and impact their world, both inside and outside the classroom.
We spoke with Jenn about why MOOSE continues to be an important tool for students back in school.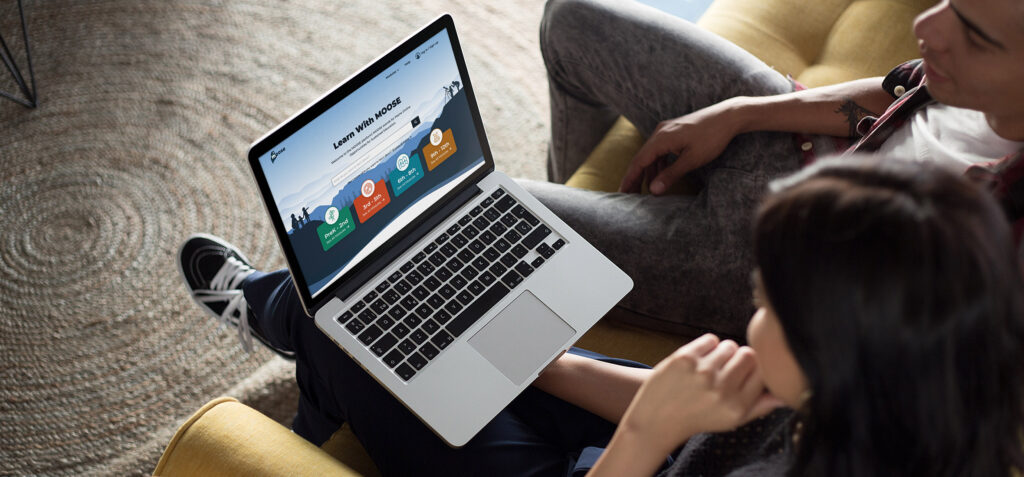 What do you see as the biggest challenge facing education today, and how can online tools like Learn With MOOSE help?
The challenge we're facing–and the opportunity–is that systems of education, government, and community are largely set up from a time with a much more industrial perspective. We used to get a student trained for a job or a career pathway and that's what they're going to be for the rest of their life. It was a much more predictable end game for folks. Now, what we're seeing is the need for interdisciplinary studies to allow students to flex between different jobs and career pathways because there's a high likelihood that the job they go into when they graduate is not going be where they're going to end up. This shifts the concept of how we do education and why education exists in that way it does.
The old systems aren't built for the way students need to be working and learning today and there's a lot of both inertia and momentum in terms of turning that challenge into an opportunity.
The fact that we have an Office of Innovation at the Maine DoE means we are starting to put the money, energy, and people behind making those shifts so the two paths can coincide. We have one path being linear traditional education, and another that helps students to address the more interdisciplinary multifaceted needs of today's world. These paths are not necessarily in conflict, but by being able to have them both going at the same time, we have a cross pollination that makes it easier to shift systems. That's where the challenge and the opportunity is. We need to keep leaning into that cross pollination, knowing it's not going to be a quick fix, but keep finding new ways to work together. That's where MOOSE comes into play.
Could you describe the goals behind the MOOSE, RREV and EnGiNE projects?
MOOSE (which was originally called Maine Online Opportunities for Sustained Education) was conceived as a student-facing site that would provide teachers with content they could push out to students even if they weren't in person with them. It provided the direct instruction and support that teachers were really struggling with at that point in the pandemic.
RREV stands for Rethinking Remote Education Ventures. It was formed to build capacity within schools to develop innovative ideas to respond to the challenges of remote education. The DoE's work in that area allowed funding to be put towards design thinking classes and bringing cohorts of educators together for training. Even though they were working within their own school, community, and idea, they still had this greater community of practice surrounding them, along with coaching and support. That's the umbrella of RREV.
In collaboration with CATES Tutoring, the DoE created EnGiNE (Engaging Innovation in Education) to form an environment where ongoing professional learning, support, and development could happen around innovative education. While EnGiNE started as an online space for RREV schools to interact, it is growing into a hub for all educators across Maine to connect, discuss challenges, share resources, and solve problems together. It really is a tremendous tool for seeding the field with new ideas and fostering this community of innovation.
The teachers need support to help students with such big, involved, and important work. That's where EnGiNE comes in for educators using MOOSE modules, it can help educators support each other and access the digital resources being created by others.
When did you realize MOOSE was more than a pandemic tool?
We realized that one of the greatest impacts of MOOSE was the professional development that the teachers were getting as they learned how to create the online modules, and that learning got brought back into the classroom.
It was the recognition of the exponential impact that was happening, not just by creating the materials, but by having change agents across the state that were thinking in this way about education, and that's when the shift started happening. It was no longer just about the pandemic, but a resource for everyone now.
What strategies have helped grow the platform?
First of all, for a lot of people in education, it took the pandemic and being forced to do things online to say, "If this needs to be the way we do it, let's make it good," rather than saying, "I'm going to find another way around it and not use the online option." The pandemic was a catalyst for a lot of change in how these conversations go.
With GovWebworks, we're working with professionals that focus on the needs of the users and the user interface. This has been very welcoming to have this focus on the needs of the customer, whether that is us at the DoE, the teacher, or the student. Bringing everybody together around Scrum sprints gets the designers, the government, and the education sectors working together across sectors to optimize the online environment.
That education mindset through everything means the developers have been willing to educate me about how the technology works, and UX designer Tracy Totman's depth of experience in education (see blog on Rethinking Online Education) was very fortuitous and speaks to the type of people GovWebworks attracts.
Where do you see online education tools like MOOSE going in Maine?
The nonprofit education sector in Maine has leaned into working with the government and the private sector so we're utilizing all resources in a way that amplifies rather than divides efforts. People are willing to look collectively at what's the real goal here and how do we work together to accomplish it?
In the past 10 years, things are getting more polarized nationally, but the link between school and community seems much stronger in Maine than we see in a lot of other states. One reason could be the number of rural communities that rely on specific industries. Students could make more than their teachers do in a year by lobstering for the summer, or they could see their career in forestry as a given based on their experience or family. If those kids aren't seeing value in being in school, you're not going to keep them there. We've needed to bring the school into the community and the community into the school, and make it about learning for life and relevancy, rather than it just about the numbers, the tests, the books. MOOSE really speaks to this.
The free open-source element of MOOSE (highlighted in its new name of Maine Online Open-Source Education) has democratized the process of learning. It may be built for Maine and by Maine teachers for Maine students, but anybody can use it and we now have people accessing it all over the world.
What about in other states?
There's a tension nationally between government systems and the way education is set up overall and what's being done in communities to work with that. We've been seeing the conversation happen across other states of how to engage students in addressing climate change if they are not feeling like they have power and are angry about things. How do you shift that to agency and impact? From an environmental education perspective, how do states meet educators and student needs through the digital environment as well as the outdoors? If we want outdoor education, how do we support the teachers and the students to ramp up to get out there and how can we utilize online components to help scaffold that so that when they get out, they have the tools they need?
Could you describe some of the MOOSE learning modules?
We have modules on the African Diaspora of Maine and Wabanaki Studies, both of those created in conjunction with members of those communities. This year we also added Applied Ethics, Cybersecurity, and Data Science as learning progressions. These are based on the overall theme of helping students figure out how to interact with and impact their world, but in these really specific ways that help teachers talk to kids and help them navigate bigger questions.
In Data Science, for instance, how do we evaluate data and recognize that you're taking in visual auditory data all the time and making decisions with it? It could be as simple as a kindergartener looking outside and figuring out what the weather's doing and what to wear that is appropriate for that weather. Those are some basic data skills that they're getting very early on, and then going all the way up from there to bioinformatics and big data sets.
With Cybersecurity, they look at how to help kids become more nuanced consumers and producers of digital material. We were working on the Cybersecurity learning progression at the time ChatGPT was coming out, so that team looked at how to have a nuanced conversation with administrators and students about where the benefits are, where the challenges are, and how do we use this new tool? It's about skills they need to be able to adapt and flex to the changing world. It's no longer just about writing an essay, it's how do you evaluate if it's a valid essay? Teachers need to know how to ask, "How important is it that my student knows this fact, versus my student being able to work with this fact to be in conversation with people and evaluate ideas and arguments." AI is changing the way we think about education and it gets messy and crunchy, but talking about it helps it get easier and clearer.
How do the modules support teachers?
We're doing topics that teachers can incorporate into their existing curriculum. We don't want MOOSE to be another requirement on top of what they're already doing, we want to help them do what they need to do through the resources we provide.
What are the needs for educators and how can they overlap? How can we lighten their lift? We want to be clear about what standards MOOSE modules address. We want a science teacher to know that they're also hitting math and history standards, or an English teacher to talk to the social studies department and say, "I'm going to be teaching this module and here are the social studies standards that I think it's going to apply to." So instead of having math, English, social studies, and science blocks one day a week, how could a module be spread across the whole week to meet the elements that you need in the other content areas?
Could you describe the content of one of the modules?
There's a module that guides third grade students to design their own playground. One of the teachers that piloted this module last year had her students create playgrounds that they worked on throughout the year and kept adding to as they learned different things in different parts of their classes.
It deals with the questions of, "How do I interact with and impact my world? How does data help me navigate my daily life?" First, it asks, "What are you interested in having in your playground? Can everybody play with you on all things? Does everybody need to be able to play with you on all things? You wanted to have wood chips, can a wheelchair make it across the wood chips? How can we make it accessible for everybody? Then the mathematics of designing and engineering the elements come into play. What we've heard from teachers is that they're checking the boxes for engineering, math, design, science, as well as writing about what they designed and why.
Teachers are saying that these modules are creating conversations in the classroom among students and among teachers with the students that aren't happening on their own. They're seeing the depth of student thinking. What students are capable of doing with this material is far beyond what the prescribed program is asking them to do or what they're allowed to do within the boundary of their class.
With these modules, we want online to be the access point, but we don't want kids glued to the screen. So, how do we get them to turn away and do something? We also want to make sure kids of all income backgrounds can access the module. With the playground you could design by drawing, with found materials, with LEGOS, even straws!
What does the adoption of MOOSE look like now that students are back in school?
Teachers back in their classrooms have been leaning into how can they use MOOSE to augment what they're teaching, and how can they use what they already do to augment a module in its entirety. We're trying to help teachers see that they can use part of a module without using an entire one. Elements of each can be used to address certain things that they need to do in the classroom without committing to a larger chunk. We've had classes where every student gets to pick their own module within a certain number of parameters so the teachers are managing multiple modules at the same time. That has been incredibly rich in terms of what the students have been able to do because their investment in that module is so high.
There's even been a career element to it of students creating their own business plan, going out with their lawn care business and getting a contract with a community organization to do lawn care based on a module.
There's a rich bank of information and resources that teachers are sharing with each other about how they use each module. Teachers are recognizing the modules are great for snow days, unexpected absences, and a substitute needing something to do. We are also looking at having regular promotions that say, "This is National Take Your Kids Outdoors Week, and here's a whole set of modules that apply to that."
When people understand what MOOSE is and the different ways that they can use it, the level of excitement is huge.
Learn more