The Challenge
Since 2018, GovWebworks has been supporting the Minnesota Department of Employment and Economic Development (DEED) in launching and enhancing the CareerForce portal to bring together information on job opportunities, community support services, training, and counseling. (See CareerForce case study.) In 2020, DEED and Minnesota IT Services (MNIT) identified the goal of providing an online chatbot to guide job seekers to the resources that can best prepare them to land jobs in stable careers, working in conjunction with Trade Adjustment Assistance (TAA), which provides services to people who lose their jobs, hours, or income as a result of increased foreign trade activity. To meet their goal of connecting job seekers to these valuable resources, DEED and MNIT engaged GovWebworks to build a virtual assistant (chatbot).
Our Approach
During the discovery process, GWW worked with DEED and MNIT to gather requirements for the chatbot. Based on the anticipated usage, IBM Watson was chosen for the framework using linear and button-based user interactions, as opposed to input/conversational natural language processing (NLP), so a user would be guided by specific questions to specific content on the site. In addition to the end user experience, it was important that CareerForce staff would be able to manage and edit the chatbot content without the need for a developer. These requirements were turned into recommendations to guide the implementation in phases of Define, Design, Prototype, Build, and Launch. In collaboration with MNIT, we conducted studies for accessibility and usability, and architected the initial conversation flow. Subsequently, our team built the chat window and the UI options and API feed access to content including careers, jobs, events, and locations. We then collaborated with MNIT to implement the conversation flows for the "welcome", "employer" and "career seeker" interactions, and the chatbot teaser message. Finally, the chatbot was vetted with user acceptance testing and analytics and reporting tools were installed.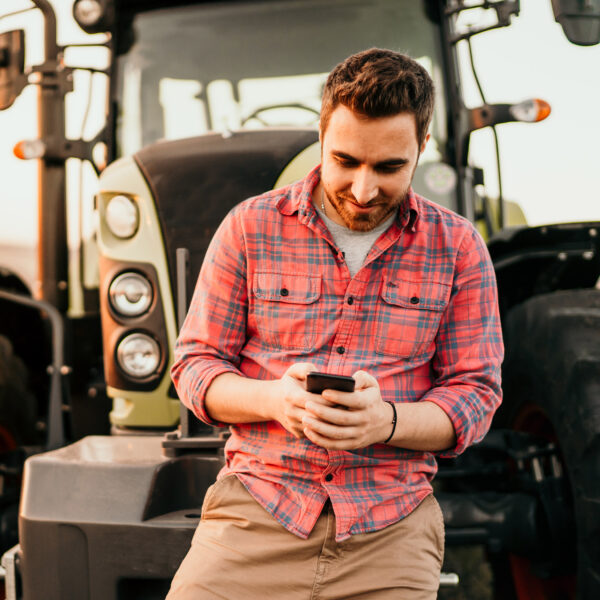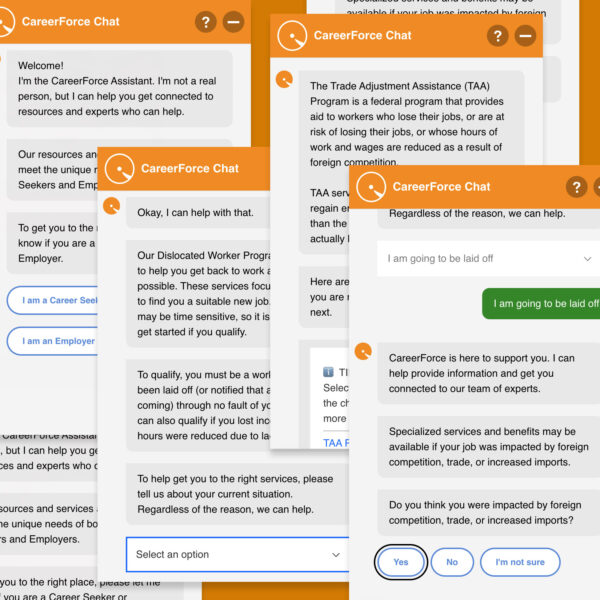 The Result
The new chatbot, called the CareerForce Assistant, is now available to all visitors to CareerForceMN.com. The chatbot provides standard prompts and button options to guide the user to requested information and links to more information on CareerForceMN.com or partner websites. In support of the original TAA goals, the CareerForce Assistant Chatbot determines if the job seeker qualifies for services by asking the visitor if they lost a job, were laid off, or had hours or income reduced without fault. It further provides info on exploring career types, finding a job or resources to help get a job, help with viewing events and scheduling appointments, and locating a CareerForce location. The chatbot can also guide employers to resources for attracting, developing, and retaining talent with help from local experts, and other services. This combination of services provided by the chatbot supports DEED to meet goals to connect career seekers and employers.
Related Articles