The Challenge
The Minnesota Office of Higher Education (OHE) is tasked with supporting Minnesotans in their pursuit and completion of higher education. The agency fulfills its mission by facilitating financial aid, informing students and families of their educational options, and producing statewide reporting about higher education in the state.
To reach out to the citizenry, the agency sought to implement a new portal that could help web visitors and registered users to:
Navigate postsecondary school selection
Find ways to pay for education
Make informed decisions to reach educational and career goals
Under the Minnesota IT Services (MNIT) vehicle, GovWebworks was selected to design and develop a dynamic solution.  The resulting system needed to survey institutions, manage national and local institutional data, and provide direct marketing campaigns to students, parents, and educators. Technical requirements also included leveraging the agency's existing investment in the Microsoft Dynamics marketing suite.
Our Approach
To understand how to meet audience needs through the portal, our design team conducted business analysis and agency visioning, as well as stakeholder and end-user interviews. This information informed solution prototyping, the visual design process, and a decision-tree method of navigation on the homepage so site visitors could self-identify specific user types and areas of interest.
On the back end, our technical team implemented Drupal 9 as the foundation for the platform, and collaborated with the OHE team to create custom navigation paths that support multiple ways of accessing information based on user needs. By delivering working prototypes at regular intervals, the team incorporated stakeholder feedback and adjusted to emerging needs, with user testing conducted to ensure a comprehensive solution.
The portal's admin system supports manual data and record management by school and university administrators. It manages intake and sync of data from external sources, including basic entity information and key institutional characteristics regarding registration, acceptance standards, student body, and other reputation data.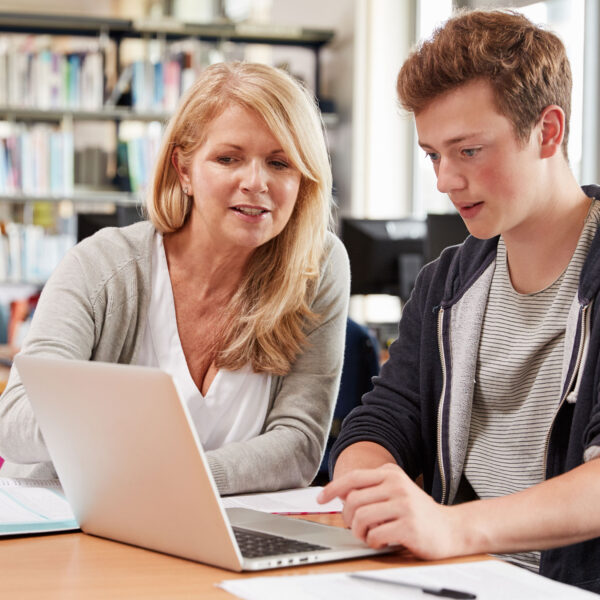 The Result
The new MyHigherEd portal offers a one-stop resource for students, parents, and educators to search for Minnesota postsecondary institutions, as well as find information on cost and career options. Search results use OHE data to present the appropriate Minnesota postsecondary institutions for a field of study, along with employment outcomes for careers based on that field from Minnesota Department of Employment and Economic Development (DEED) data.
These diverse user search criteria and filters include:
Multi-factor searches based on combinations of data elements
Detailed views of each institution that enable easy browsing and convenient access to introductory/orientation media
Side-by-side institutional comparisons with cost calculators (based on financial aid and loans)
To better assist visitors in navigating the site, the chatbot, Jesse, is a virtual assistant built using the Microsoft Dynamics toolset.
Furthermore, visitors can find personalized insights into financial aid opportunities and area of study preferences that fit their unique circumstances. If they chose to register and save personal profile and preference information, they gain access to an enhanced suite of tools to assist with assessment, cost estimation, and application/registration management, such as automated reminders of key deadlines. The system enables other communications and engagement in accordance with user preferences. Profile information and key points of interaction history can be synchronized to a Marketing Dynamics instance, allowing for direct marketing, management of user journeys, and event engagement tracking.
General information such as blog articles, news, announcements, FAQs, and links to key resources can also be found on the site. The entire portal meets the State of Minnesota Accessibility Standards, ADA and MCAG AA standards, and Section 508 of the Federal Rehabilitation Act. Additionally, it is optimized for SEO with a Google Analytics data dashboard so OHE's communications team can monitor trends in usage and identify performance metrics to align with USWDS principles for web performance.
Related Articles