The Challenge
The signing of the Affordable Care Act in 2010 provided an opportunity for Idaho Department of Health and Welfare (IDHW) to modernize its service delivery tools, such as Idalink, through the available 90-10 federal funding to support the implementation of new technology.
Like many agencies, IDHW had eligibility infrastructure that was distributed across multiple applications. This was costly and inconvenient to maintain, especially because, like many eligibility systems, it handled redundant information. Additionally, the multitude of systems was confusing for applicants, requiring the same data to be entered multiple times.
Our Approach
GovWebworks lead development of the Idalink web portal in line with IDHW's existing open-source technology preferences. The core functionality of Idalink was developed as an application linked to the state's eligibility engine, allowing applicants to complete the eligibility evaluation process and display potential benefits.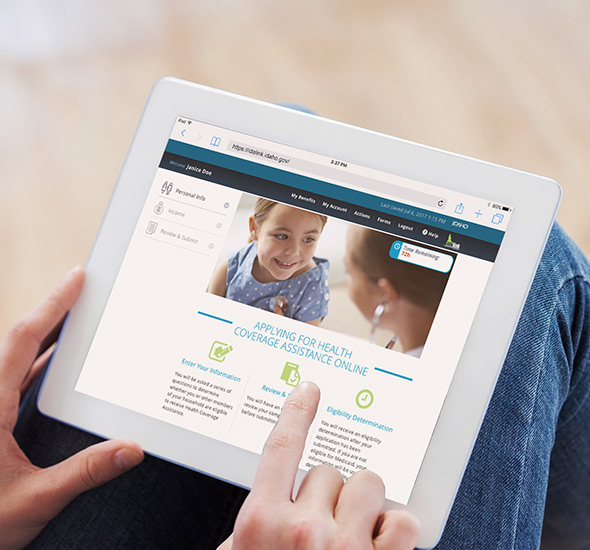 The Result
Response to the initial launch of the Idalink portal has been overwhelmingly positive, as was IDHW's experience of working with GovWebworks on its development. Although benefits re-evaluation is a complex multi-step process, users of the Idalink portal are now able to navigate the process smoothly, thanks to its user-friendly design and system response times. This goes a long way towards achieving one of the core business requirements, that the online re-evaluation be easier (and preferable) to other methods for re-evaluation that place a heavier burden on IDHW staff.