The Challenge
The Missouri Department of Transportation (MoDOT) is an important state agency that works with a diverse audience, including the public, transportation partners, legislators, and other state and local agencies. The MoDOT site might see close to 100,000 visitors a day during major road events and averages about 2.1 million visitors annually. However, the 10-year old, non-mobile responsive site, running on end-of-life technology, was difficult to navigate and wasn't fully compliant with accessibility standards. It also relied on disjunct technologies and the content creators were struggling to update vital information and maintain consistency.
GovWebworks (GWW) was recommended to MoDOT by a department with an existing contract for website and chatbot services. We were able to provide services as an extension of our current agreement, without a time consuming and expensive procurement.
GWW was engaged for a complete site rebuild and to help resolve content management issues. We recommended a Drupal based content management system due to its robust developer community, ease of use, and effective content creation and management.
Our Approach
To ensure project success, GWW conducted an extensive discovery process to identify audience and stakeholders needs for both internal and external users. These included travelers, contractors, internal staff, content creators, municipalities, and businesses.
The discovery enabled GWW to effectively estimate the project scope to ensure the new site would be developed on time and on budget with clearly defined deliverables. During the discovery phase we produced wireframes to ensure the correct look and feel for the department, and selected the best architecture based on the client's unique needs and the department's ultimate vision.
Our recommendations included streamlined plans to ease administrative burdens through mechanisms that would simplify the content scheme, while still enabling support for more than 30 distinctive page formats via two highly configurable content types.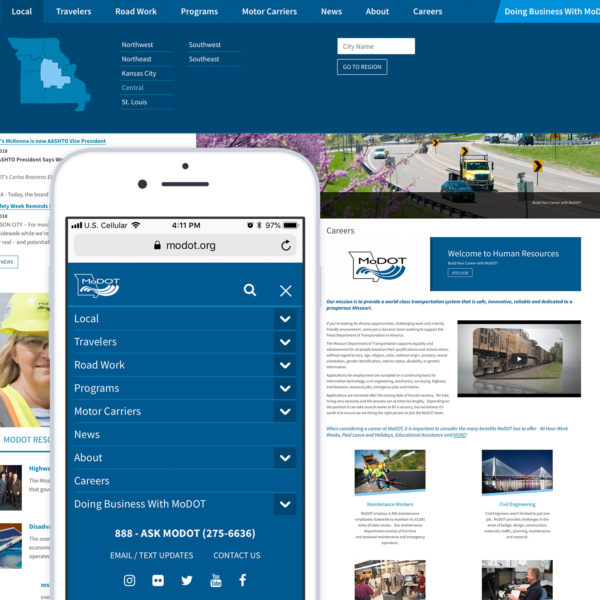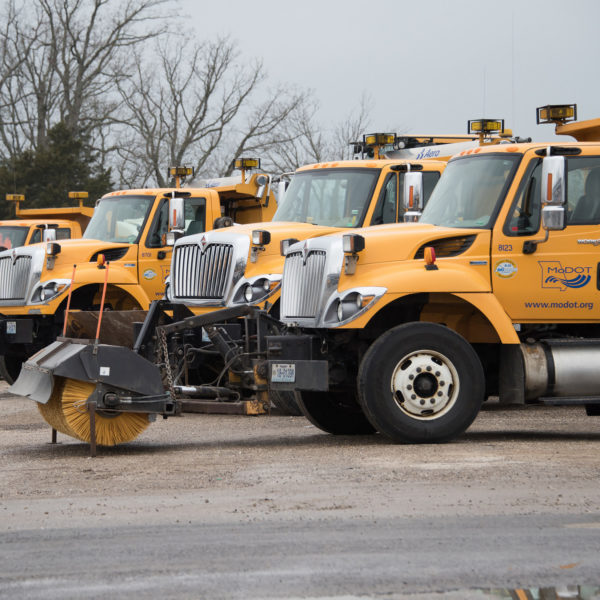 The Result
The new MoDOT implementation is responsive, fractal-based, cross-browser friendly, and WCAG/508 compliant, with custom modules including a page builder and element managers for use by more than 50 content managers and administrators. It features a complex array of enterprise-style functionality, including tiered and interconnected publication workflows, advanced search capabilities, and multifaceted API-driven data and GIS integration.
The user centered design gave MoDOT a fully accessible, mobile responsive website, which users can easily update themselves. Drupal functionality maximizes departmental efficiency so content creators can manage their content without needing a developer to make changes. The added benefit is that the content is easier for visitors to find, and the site easier to navigate.
Noteworthy innovations include:
A flexible, custom-GUI-driven page builder that dramatically streamlines the content scheme to just two content types, allowing non-technical users to build brand-consistent and departmentally-regulated layouts on-the-fly, without developer intervention.
A custom-developed, topic-driven permission system, enabling district and division leaders to manage their own content, similar to having micro-sites with consistent navigation, headers, footers, and common elements.
Enriched Solr search capabilities to enable faceted search, making content more readily discoverable.
A statewide notification system, capable of rendering alerts to targeted geographic areas.
A modern fractal pattern library that makes site components reusable to accomplish future enhancements faster and with more consistently.
Ultimately MoDOT felt that the site redevelopment project was an important business decision to make, and a good investment for the citizens of Missouri, reinforcing transportation safety, reliability and efficiency throughout the state.