There are several paths that a state agency might explore in modernizing their child support systems, and at least as many factors that will influence that choice. At their core, the child support modernization paths can be defined as build (from scratch), buy (an existing product), transfer (a solution from another state), or replatform (the existing system to newer technology).
In order to properly assess these options, and to enlist federal support in the project, the Office of Child Support Enforcement (OCSE) will frequently require a feasibility study, which can be a time consuming and expensive process. Recently, thanks to new rules from the OCSE, that study effort has become a little less onerous, with streamlined steps from planning to modernizing. However, when then OCSE Commissioner, Scott Lekan, announced the plan to streamline the feasibility process in his letter to IV-D directors back in July 2019 he also pointed out that of all the paths, replatforming (or refactoring), is the one approach that does not trigger the requirement for a feasibility study.
Why it matters
As referenced in a previous post, Strategies for Child Support Modernization, many child support enforcement systems are running on outdated technologies, and the mandate to modernize is clear. However, funding has been in short supply of late, and Federal support is needed to move forward. Previously, agencies had to complete comprehensive feasibility studies in order to determine the best course of action for modernization. This protracted process resulted in delays, and often failed to keep up with the pace of technological change.
By contrast, our work with the state of Idaho was classified as replatforming, and while that term may sound like a "lift and shift" of the same system, it made it possible to realize significant benefits in terms of usability and efficiency without the feasibility study burden. For more information on this approach, see our case study and blog on the project.
However, states that have not taken the replatforming route, but are planning to build, buy, or transfer a new system, have had to face the aforementioned feasibility study requirement. Until recently, it's been a labor intensive hurdle to overcome in order to unlock federal assistance. This effort was reduced late last year, when the OCSE streamlined the process for states to receive Federal funds and support for system modernization. Under new rules, what formerly might have taken years can now potentially be done in a few months.
Planning to plan
Previously, legislation dating back to 1993 and 2006 guided agencies to complete the in-depth feasibility studies in order to receive OCSE approval. In many cases this process is so involved that agencies contracted with consultants to perform the study. That in itself requires an RFP process to select a vendor who, once selected, then has to get up to speed on current agency practices, existing systems and future objectives. According to Raghavan Varadachari, Director of the Division of State and Tribal Systems at OCSE, "this type of feasibility study is expensive ($2M – $5M) and time consuming; it could take up to three years to document (400-600 pages, plus attachments) and another year to collaborate through the OCSE review and approval process."
Beyond the obvious cost burden, this protracted process introduces the possibility that some technical choices become out-of-date before development has even begun. Not to mention the fact that an agency must continue to support their legacy system(s) during all of this planning.
The streamlining of the feasibility process now means the burden will be less. In some cases, OCSE has eliminated steps altogether, including the need for function point analysis*, 15- to 20-year cost modeling, and the need for onsite evaluation of transfer system candidates. Clearly, the process has been modified to allow agencies to move from planning to doing as quickly as possible.
*See Simplifying the Complex With Function Point Analysis – Part 1: A toolkit for consistently and easily producing an accurate estimate for just about any software development project, to learn more about function point analysis.
OCSE has also tried to eliminate the red tape. In page count alone, the expectation has been reduced to 50-100 pages, plus supporting artifacts, a boon to compilers and reviewers alike, and OCSE's review time has been compressed from two months to two or three weeks. Through these changes, states and tribal organizations now have the realistic ability to conduct their own feasibility studies in a timely manner, and move on to the next phase of modernization.
How to decide?
While the feasibility study might now be easier to execute, it is still not a trivial task, so states should consider all of their options before triggering that requirement. Replatforming might sound like the same system with a new coat of paint, but it can provide an opportunity to dramatically reimagine how your current platform looks and operates.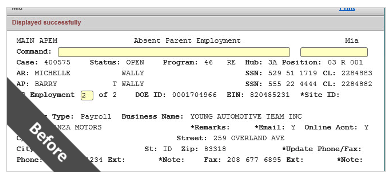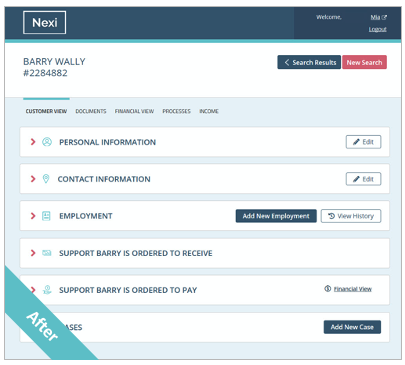 The screenshots above illustrate just one "before and after" example from our work replatforming Idaho's old system. Even if you are current running on deprecated software, there is still a path to turn that into a modern, user-centered platform. If you'd like to learn more about what's possible with the replatforming route, please get in touch.
However, if it seems like a feasibility study is still in your future, you can now at least enjoy a simplified process.
Learn more
Contact us to learn more about how we can help with child support modernization
View our work in child support modernization
Follow our series on child support issues:

Strategies for Child Support Modernization: Take steps now to prepare for an unpredictable future, by Tom Lovering, April 14, 2020
Support for Changing Families: Why modernizing the IV-D child support system protects children, alleviates poverty, and reduces the strain on government, by Tom Lovering, March 19, 2019
Working for Families: How child support agencies are supporting employment to yield better returns (from Larry Fabian's OAS podcast), by Tom Lovering, April 9, 2019
Solutions for Children and Families: Experts at the APHSA Summit discuss how to make changes based on behavioral science, by GWW Staff, May 14, 2019
Moving the Needle on Child Support Compliance: How behavioral intervention improved outcomes in three states (from BICS grant programs presented at the APHSA Summit), by Tom Lovering, May 21, 2019
Achieving Child Support System Modernization: Strategies from the National Child Support Enforcement Association conference, by Ravi Jackson, August 13, 2019
From Deadbeat to Upbeat: Helping noncompliant parents help themselves and their families, by GWW Staff, November 19, 2019