The Challenge
The Massachusetts Clean Energy Center (MASSCEC) is dedicated to accelerating the success of clean energy technologies throughout Massachusetts. In 2014, after turnover of some technical personnel, MASSCEC found itself in a position where it had become responsible for several aging tools and applications. The organization conducted an in-depth assessment of its online assets, and determined that it was time to find a professional IT vendor that can provide long-term, full-scope software consulting support, oriented towards the maintenance and renewal of MASSCEC's web presence, web-based tools, and resources.
Our Approach
GovWebworks was selected and kicked-off the contract by engaging MASSCEC in a comprehensive discovery process, through which we carefully explored MASSCEC's priorities and long-term objectives with respect to resource redevelopment. In late 2014, we got started on the hands-on work by overhauling the organization's job board, enhancing its functionality through migration into a more powerful and sophisticated Drupal framework. We then proceeded to support a transparency initiative that involved a more broad-based, user-centric redevelopment of the organization's website. These redevelopment efforts encompassed an updated information architecture and a dramatic redesign that would make it easier for users to pinpoint information more rapidly.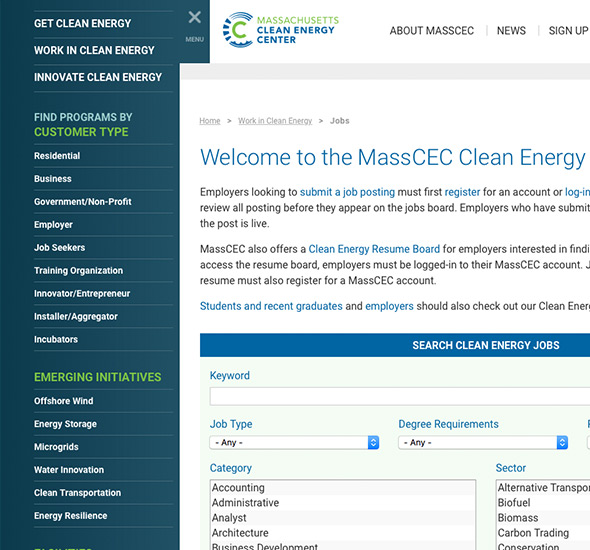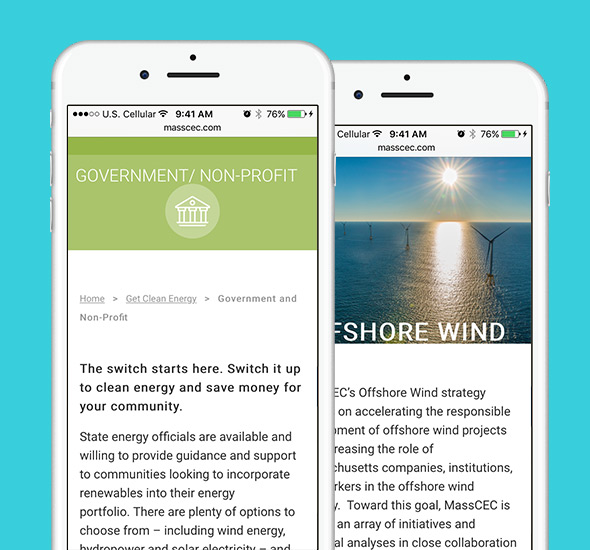 The Result
Re-launched in early 2016, MASSCEC's updated, fully-responsive website is an unqualified improvement for both the client and end users. The streamlined, mobile-friendly design and architecture more effectively connects users with key information and core functionality. The technical implementation also makes life easier for site managers, seamlessly incorporating multi-site control through use of Drupal's Domain Access module. Our solution makes content management approachable for non-technical personnel, who can now truly manage both core and micro-site web publishing within the context of a simple, collaborative Drupal workflow.